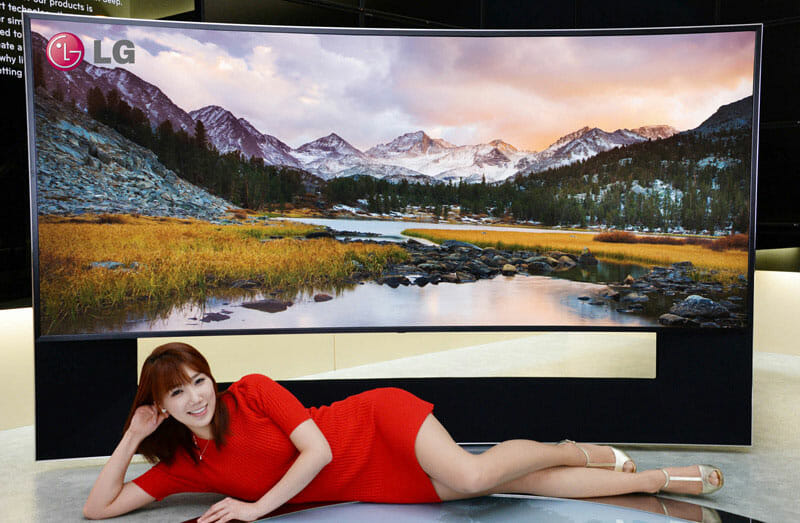 The showdown of the TV manufacturers is going into the next round. At IFA 2013 every manufacturer wanted to be the company with the "world biggest anything tv". At CES 2014 the event will be called " The Worlds Largest Curved Ultra HD TV". LG and Samsung set the bar to 105 inches and 5,120 x 2,160 pixels on a 21:9 aspect ratio!
While Samsungs Pixel Behemoth is based on an LCD panel , the 105- inch model from LG is equipped with an OLED panel. Thats clever, so everyone gets an award to himself : "World's largest curved LCD Ultra HD TV" for Samsung and "World's largest curved OLED Ultra HD TV" for LG.  Maybe Curved TVs will be the next technology trend besides OLED and Ultra HD?
[fusion_builder_container hundred_percent="yes" overflow="visible"][fusion_builder_row][fusion_builder_column type="1_1″ background_position="left top" background_color="" border_size="" border_color="" border_style="solid" spacing="yes" background_image="" background_repeat="no-repeat" padding="" margin_top="0px" margin_bottom="0px" class="" id="" animation_type="" animation_speed="0.3″ animation_direction="left" hide_on_mobile="no" center_content="no" min_height="none"][fusion_imageframe style="dropshadow" bordercolor="" bordersize="0px" stylecolor="" align="center" animation_type="none" animation_direction="up, down, left, right" animation_speed="0.1 to 1″]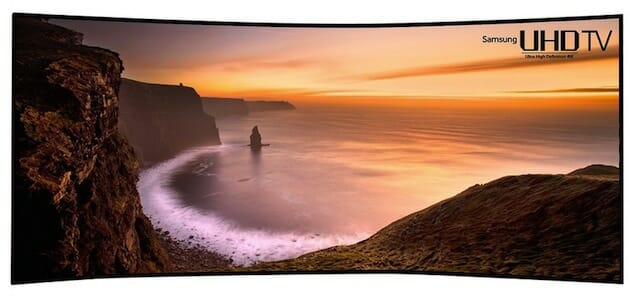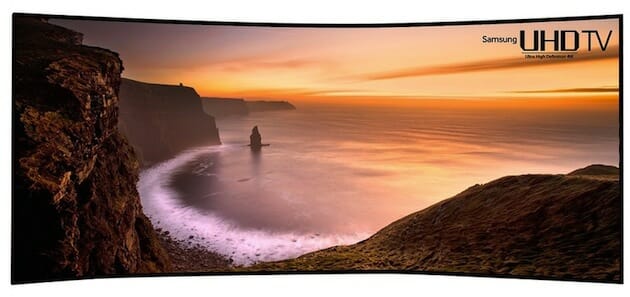 Samsung curved 105 inch Ultra HD TV[/fusion_imageframe]
How should a Curved Display change the viewing experience ? That's a good question and Samsung has the answer: The curved screen in combination with a new algorithm improves the color reproduction, which is intended to give the viewer an intense feeling of depth of field. To experience the depth effect even with SD and HD content , Samsung has integrated the "Quad Automatic Picture Engine". The engine upscales low-res pictures to 5,120 x 2,160 pixels. The idea of a curved displays is not that new. Huge Cinemas like IMAX already use curved screens to give the viewer an immersive movie experience.
Of course, corporations have to prove over the competition . But many customers would rather want a well crafted final product than to get slapped in the face again and again with big a** TVs and displays. Most of these don't find their way into the stores and if they do they cost as much as a Monster Truck.
More Details on the new curved Ultra HD TVs will be revealed on CES 2014 in Las Vegas.[/fusion_builder_column][/fusion_builder_row][/fusion_builder_container]