Prices for Samsung 2014 Ultra HD lineup has been leaked on the internet. The information was given to hdguru.com. The "cheapest" 50 Inch UHD-TV of the HU8550 series will be available for $ 2,499. The HU9000 series with bent (curved) display will set you back $ 3999 on your bank account. 
The prices for Sony's 4K lineup have also been published recently. Comparing the price recommendations by Sony and Samsung you can see that Sony is slightly cheaper at the smaller diagonal. If we move beyond the 55 inches (139 cm) we can experience a pleasant surprise. While Sony'S 65-inch flat UHD-TV costs $ 4499, respectively $ 5,499, the Samsung  UN65H8550 UHD TV goes for $ 3999. Thats 500 bucks saved.
75 inch Ultra HD TV for $ 5,999
But the killer is Samsung's biggest model. The 75 -inch model of the HU8550 series costs "only" $ 5,999 . For a flat Ultra HD TV, with full equipment , HDMI 2.0 and HEVC support this model could be the new dream TV for home theater fans.
Samsung forces price stability with UPP
The pricing is UPP prices. This means Unilateral Pricing Policy and is a common means of TV manufacturers to counteract the drop in prices for their products. If a TV is offered below the specified price, so it may be that the dealer is simply no longer supplied . Thus, the price remains stable, which is good for the manufacturer, but bad for the customer. The UPP is the minimum price. The television equipment may of course be advertised more expensive. That will happen in most cases. In America this is quite legal. In Germany such a price target against free trade would violate .
European prices are not yet known
The prices for the European market are not yet known . However, we can assume that after additional charges for customs and tax the price will be converted one-to-one from Dollars to Euros. Thus the cheapest model would be the 50 inch UN50H8550 for 2,499 euros
[fusion_builder_container hundred_percent="yes" overflow="visible" margin_top="20″ margin_bottom="" background_color="rgba(255,255,255,0)"][fusion_builder_row][fusion_builder_column type="1_1″ background_position="left top" background_color="" border_size="" border_color="" border_style="solid" spacing="yes" background_image="" background_repeat="no-repeat" padding="" margin_top="0px" margin_bottom="0px" class="" id="" animation_type="" animation_speed="0.3″ animation_direction="left" hide_on_mobile="no" center_content="no" min_height="none"][fusion_separator style="shadow"/] [/fusion_builder_column][/fusion_builder_row][/fusion_builder_container][fusion_builder_container hundred_percent="yes" overflow="visible"][fusion_builder_row][fusion_builder_column type="1_2″ last="no"]
Prices Curved UHD-TV HU9000 Series
(Deutschland: U9000)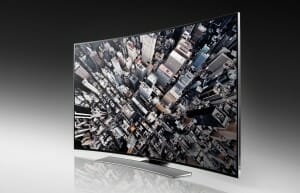 UN55H9000 – 55 Zoll $3999.99 (ca. 2900 Euro)

UN65H9000 – 65 Zoll  $4999.99 (ca. 3650 Euro)

UN78H9000 – 78 Zoll $7999.99 (ca. 5800 Euro)
[/fusion_builder_column] [fusion_builder_column type="1_2″ last="yes"]
Features HU9000 Series
[fusion_checklist icon="check" iconcolor="#ffffff" circle="yes"]
Curved LED LCD Display with 3.840 x 2.160 Pixel
120Hz Refresh Rate
Active 3D
Micro Dimming
Color Enhancer Plus
DTS Premium Sound
Quad-Core Prozessor
Smart Hub
WiFi
HD Cam
One Connect Box, HEVC, HDMI 2.0
Voice Recoginition, Skype Ready, AllShare, 3D Sound Plus, Eco Sensor, Connectshare Movie
[/fusion_checklist] [/fusion_builder_column] [fusion_builder_column type="1_1″ background_position="left top" background_color="" border_size="" border_color="" border_style="solid" spacing="yes" background_image="" background_repeat="no-repeat" padding="" margin_top="0px" margin_bottom="0px" class="" id="" animation_type="" animation_speed="0.3″ animation_direction="left" hide_on_mobile="no" center_content="no" min_height="none"][fusion_separator top="20″ style="shadow"/] [/fusion_builder_column][fusion_builder_column type="1_2″ last="no"]
Prices Flat UHD-TV HU8550 Series
(Deutschland: U8500)

UN50H8550 – 50 Zoll $2499.99 (ca. 1800 Euro)
UN55H8550 – 55 Zoll $2999.99 (ca. 2190 Euro)
UN60H8550 – 60 Zoll $3499.99 (ca. 2550 Euro)
UN65H8550 – 65 Zoll $3999.99  (ca. 2900 Euro)
UN75H8550 – 75 Zoll $5999.99 (ca. 4350 Euro)

[/fusion_builder_column][fusion_builder_column type="1_2″ last="yes"]
Features HU8550 Series
[fusion_checklist icon="check" iconcolor="#ffffff" circle="yes"]
Flat LED LCD Display witch 3.840 x 2.160 Pixel
120Hz Refresh Rate
Active 3D
Micro Dimming
Color Enhancer Plus
DTS Premium Sound
Quad-Core Prozessor
Smart Hub
WiFi
One Connect Box, HEVC, HDMI 2.0
Voice Recoginition, Skype Ready, AllShare, 3D Sound Plus, Eco Sensor, Connectshare Movie
[/fusion_checklist] [/fusion_builder_column]
Via: hdguru.com[/fusion_builder_row][/fusion_builder_container]