The show­down of the TV manu­fac­turers is going into the next round. At IFA 2013 every manu­fac­turer wan­ted to be the com­pany with the "world big­ge­st any­thing tv". At CES 2014 the event will be cal­led " The Worlds Lar­ge­st Cur­ved Ultra HD TV". LG and Samsung set the bar to 105 inches and 5,120 x 2,160 pixels on a 21:9 aspect ratio!
Whi­le Samsungs Pixel Behe­mo­th is based on an LCD panel , the 105- inch model from LG is equip­ped with an OLED panel. Thats cle­ver, so ever­yo­ne gets an award to him­self : "World's lar­ge­st cur­ved LCD Ultra HD TV" for Samsung and "World's lar­ge­st cur­ved OLED Ultra HD TV" for LG. May­be Cur­ved TVs will be the next tech­no­lo­gy trend besi­des OLED and Ultra HD?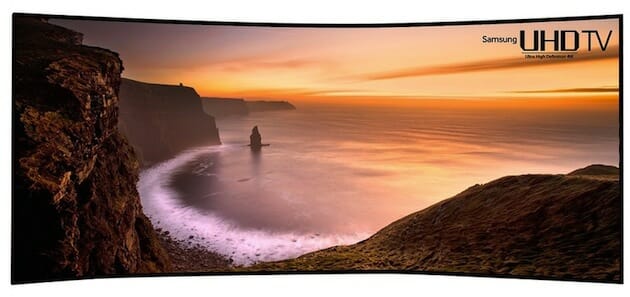 How should a Cur­ved Dis­play chan­ge the view­ing expe­ri­en­ce ? That's a good ques­ti­on and Samsung has the ans­wer: The cur­ved screen in com­bi­na­ti­on with a new algo­rithm impro­ves the color repro­duc­tion, which is inten­ded to give the view­er an inten­se fee­ling of depth of field. To expe­ri­en­ce the depth effect even with SD and HD con­tent , Samsung has inte­gra­ted the "Quad Auto­ma­tic Pic­tu­re Engi­ne". The engi­ne ups­ca­les low-res pic­tures to 5,120 x 2,160 pixels. The idea of a cur­ved dis­plays is not that new. Huge Cine­mas like IMAX alre­a­dy use cur­ved screens to give the view­er an immer­si­ve movie expe­ri­en­ce.
Of cour­se, cor­po­ra­ti­ons have to pro­ve over the com­pe­ti­ti­on . But many cust­o­m­ers would rather want a well craf­ted final pro­duct than to get slap­ped in the face again and again with big a** TVs and dis­plays. Most of the­se don't find their way into the stores and if they do they cost as much as a Mons­ter Truck.
More Details on the new cur­ved Ultra HD TVs will be revea­led on CES 2014 in Las Vegas.