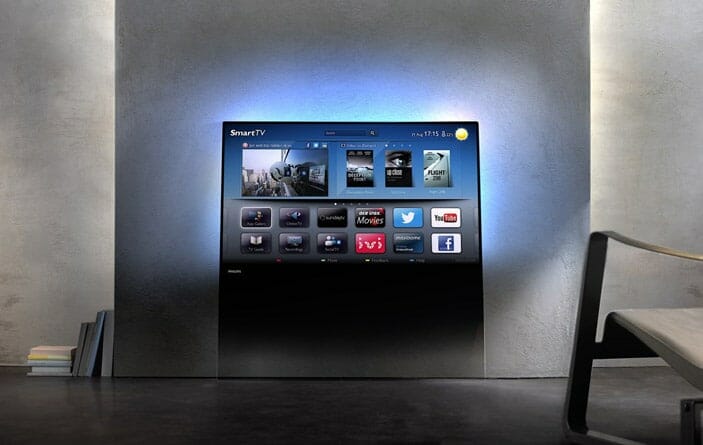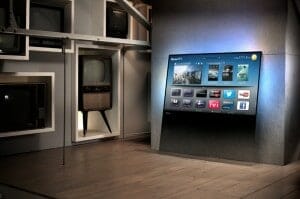 Philips kündigte in einer Pressemitteilung seine neuen DesignLine TV-Geräte mit den Modellbezeichnungen 46PDL8908 und 55PDL8908 an. Das Design, welches von Philips gewählt wurde, hat man so sicherlich noch nicht gesehen.
Der komplette Fernseher gleicht einer nahtlos übergehenden, quadratischen Glasscheibe, die man einfach an die Wand lehnen kann.
Obwohl die neuen Fernsehgeräte auf den ersten Blick eher wie eine Designstudie aussehen, werden die Modelle in 46 und 55 Zoll noch dieses Jahr auf dem Markt erscheinen. Leider "nur" mit Full-HD Auflösung, aber das lässt einen auch nicht weniger  staunen.
Mit Ambilight, und dem Farbverlauf auf der Scheibe der sich langsam von Schwarz ins transparente Glas durchzieht, staunt man nicht schlecht wenn man den Fernseher in Aktion sieht. Vor allem frägt man sich wo die ganze Technik untergebracht ist?
Mehr Technik finden Sie in keinem Fenster der Welt!
Diese versteckt sich im inneren der Scheibe, und nicht gerade wenig: 3D-Support mit aktiven Shutter-Brillen, 1400Hz PMR Bildwiederholungsrate, Ambilight XL auf drei Seiten, Dual-Core-Prozessor, Smart-TV-Anwendungen, neue Fernbedienung mit Keyboard auf der Rückseite, uvm.
Egal ob stehend, lehnend oder an die Wand gehängt, der Fernseher ist in jedem Zimmer ein Blickfang, vor allem, da diese zu schweben scheint.
Vielleicht wird dieses Design auch irgendwann für 4K / Ultra HD-Fernseher umgesetzt. Das einzige Problem sehen wir beim Gewicht des Fernsehers. Sollte der TV größtenteils aus massiven Glas bestehen, wird es schwer sein diesen ohne Hilfe zu bewegen.
Die Geräte sollen im zweiten Quartal 2013 verfügbar sein und zwischen 2.000,- und 3.000,- Euro kosten.
Bilder:
Video:
[fusion_builder_container hundred_percent="yes" overflow="visible"][fusion_builder_row][fusion_builder_column type="1_1″ background_position="left top" background_color="" border_size="" border_color="" border_style="solid" spacing="yes" background_image="" background_repeat="no-repeat" padding="" margin_top="0px" margin_bottom="0px" class="" id="" animation_type="" animation_speed="0.3″ animation_direction="left" hide_on_mobile="no" center_content="no" min_height="none"][Expand Pressemitteilung (englisch):]
The new Philips DesignLine matches perfectly with modern home interiors and gives a superb TV experience
The Philips DesignLine moves away from current TV product design language
The 2013 Philips DesignLine features a seamless, gradient black sheet of glass that hides the screen in off-mode
The new Philips DesignLine provides high-end picture quality features
Amsterdam, 14th March, 2013 –TP Vision announces its new Philips DesignLine TV characterized by an unconventional style to truly fit modern living spaces. The front of the TV is made of one seamless, square sheet of glass in gradient black. The new DesignLine TV series encompasses models of 117cm (46″) and 140cm (55″) in screen size. They will be available in Europe and Russia in the second quarter of 2013.
DesignLine DNA of lightness and transparency
The new TV carries the Philips DesignLine hallmark of lightness and transparency; a TV without a neck, without a stand and without a visible frame, one seamless sheet of glass leaning against a wall. In standby mode, the TV's frameless glass front displays a smooth, translucent flow from black opaque to transparent, which becomes invisible when watching TV.
3-sided Ambilight supports the light, floating effect
Ambilight 3-sided XL adds perfectly to the floating appearance of the Philips DesignLine television. This unique Philips TV feature projects light that precisely matches the colour of the on-screen content on to the wall behind it.
Top-class picture quality
The Philips DesignLine series was designed with interior decoration in mind without compromising on picture quality. The front sheet of glass sits on top of a top-class LCD screen, which is powered by a high-performance dual-core processor with Perfect Pixel HD engine inside. The DesignLine features 1400 Hz Perfect Motion Rate for superb motion sharpness. Micro Dimming and Local Contrast improve the screen's splendid intrinsic contrast even further. 3D Max uses active 3D technology in combination with the high-speed display to create a great 3D viewing experience in Full HD resolution.
Advanced user interaction and streaming capabilities
The Philips DesignLine series offers a high end TV experience: To facilitate Smart TV usability the sets come with a remote control with pointing capability and built-in keyboard. Its aluminium brushed finish perfectly complements the looks of the DesignLine TV.
The TVs have Wi-Fi on board and support the Philips MyRemote app, Wi-Fi Miracast™ and SimplyShare to allow wireless streaming content to and from notebooks, smartphones and tablets. The Philips Designline TVs are also ready to be automatically upgraded for MultiRoom1 viewing. This application allows consumers to stream broadcast content from the master TV to a secondary TV anywhere at home.
Quote
Rod White, Senior Creative Director at TP Vision
"By consciously designing a system which offers implicit performance, but in a language focused on interior context we offer a true Object of Desire".
[/Expand]

[/fusion_builder_column][/fusion_builder_row][/fusion_builder_container]