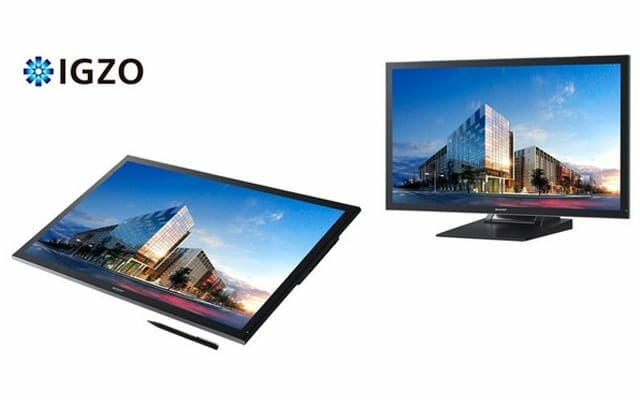 Sharp erweitert mit dem PN-K322B sein 4K Monitor Angebot um ein 32 Zoll Modell mit IGZO Display und Touch-Funktionalität.
Das berührungsempfindliche Display hat eine Auflösung von 3.840 x 2.160 Pixel, ist höchst präzise und soll seinen Einsatz im professionellen Bereich, z.B. bei Grafikern oder Videoeditoren finden. Der mitgelieferte Stift erleichtert die Eingabe und lässt sich vor allem bei grafischen Anwendungen gut einsetzen.
Auch Handschrift soll der Touchscreen ohne Probleme erkennen. Die Spitze des Stifts ist gerade einmal 2mm dick und erlaubt so auch feine Haarlinien. Die Eingabe des Stiftes wird aber durch die Hand auf dem Display nicht unterbrochen. Die Palm Cancellation Funktion "ignoriert" die abgelegte Hand und verhindert so Fehleingaben. Der Monitor unterstützt auch Multitouch Gesten und kann bis zu 10 Berührungspunkte gleichzeitig verarbeiten.
Sharps IGZO Technologie mit EDGE-LED Beleuchtung ist auch bei diesem Modell mit an Bord und erlaubt eine schmale Bauweise (36mm an der dicksten Stelle), bietet eine eine gleichmäßig verteilte Helligkeit (300 Candela pro Quadratmeter) und verbraucht dabei noch wenig Strom.
Bei den Anschlüssen gibt es einen DisplayPort und einen HDMI-Anschluss, eigentlich Standard für High-End Monitore. Das europäische Modell wird wohl ohne HDMI-Eingang ausgeliefert, da der europäische Zoll Monitore mit mehr als 30 Zoll und einem HDMI-Anschluss als Fernseher einstuft und dafür höhere Abgaben anfallen.
Sharp hat noch kein Preis oder Lieferzeitraum genannt. Wir gehen aber davon aus, dass sich der Bildschirm in einer Preisrange um die 4.000 – 5.000 Euro bewegt.
[fusion_builder_container hundred_percent="yes" overflow="visible"][fusion_builder_row][fusion_builder_column type="1_1″ background_position="left top" background_color="" border_size="" border_color="" border_style="solid" spacing="yes" background_image="" background_repeat="no-repeat" padding="" margin_top="0px" margin_bottom="0px" class="" id="" animation_type="" animation_speed="0.3″ animation_direction="left" hide_on_mobile="no" center_content="no" min_height="none"][fusion_accordion][fusion_toggle title="Pressemitteilung aufklappen:" open="no"]
Sharp to Introduce PN-K322B Touchscreen LCD Monitor
Accurate Onscreen Handwritten Text Input and Multi-Touch Operation on an Ultra-High-Resolution 4K Display
Sharp PN-K322B Touchscreen LCD Monitor
Sharp Corporation will introduce into the Japanese market a new 32-inch-class LCD monitor, the PN-K322B. This professional-use monitor features an originally developed high-sensitivity, high-precision touchscreen and delivers 4K resolution (3,840 × 2,160 pixels)-a level of resolution four times that of full HD.
The PN-K322B is Sharp's latest ultra-high-definition display. Its high-precision touchscreen allows accurate onscreen handwriting of fine text and lines, with writing performed via a dedicated touch pen with a pen-tip width of just 2 mm. The display also supports multi-touch operation.
Thanks to IGZO technology and an edge-lit LED backlight, the PN-K322B boasts a slender profile with a thickness of just 36 mm*2-the thinnest in its class. An included stand allows the monitor to slide easily between two angles depending on the application: vertical for viewing the monitor or low-angle for onscreen writing and touchscreen operation.
The PN-K322B features a palm cancellation function that prioritizes pen input even when the user's hand is resting on the touchscreen. Input connectors on the PN-K322B are compatible with the latest DisplayPort™ and HDMI™ interface specifications, enabling the monitor to display*3 4K ultra-HD content delivered from a PC via a single-cable connection.
Demand for ultra-high-definition 4K displays is growing for numerous business and professional applications such as graphic and video content creation and editing. To further grow demand for 4K displays, Sharp will propose usage applications in other fields too, such as in customer service applications at retailers and showrooms or in exhibition displays at museums and art galleries.
Product name Touchscreen LCD monitor
Model name PN-K322B
Suggested retail price Open
Date of introduction in Japan July 30, 2013
Monthly production 250 units
Major Features
1. 4K high-definition display equipped with an originally developed high-sensitivity, high-precision touchscreen.
2. The industry's thinnest-profile design and a dedicated "sliding" stand optimized for viewing or onscreen pen/multi-touch operation.
3. Connectivity with PCs via a single cable for displaying 4K data.
*1 IGZO monitors were developed jointly for mass production by Sharp and Semiconductor Energy Laboratory Co., Ltd. IGZO and the IGZO logo are trademarks or registered trademarks of Sharp Corporation.
*2 As of July 2, 2013; for 30-inch or larger 4K (3,840 × 2,160 pixels) touchscreen monitors (based on Sharp research).
*3 DisplayPort (Multi-Stream Transport) supports up to 3,840 × 2,160 resolution at a 60p frame rate; HDMI port can support up to 3,840 × 2,160 resolution at a 30p frame rate.
Specifications
Model name PN-K322B
Installation Landscape / Portrait*4
LCD panel Screen size 32-inch-class widescreen (80.1 cm diagonal) IGZO LCD
Backlight LED (edge lit)
Max. resolution
(Max. display colors) 3,840 x 2,160 pixels
(Approx. 1.07 billion colors)
Brightness 300 cd/m2
Active screen area
(W x H) 698 x 393 mm
Touchscreen Touch technology Capacitive touch
Communication USB serial
Multi touch 10 points
Supported OS Windows® 8*5, Windows® 7, Windows Vista®*6, Windows® XP*6
Input terminals DisplayPort DisplayPort x 1
HDMI HDMI x 2
Audio 3.5 mm-diameter mini stereo jack x 1
RS-232C 3.5 mm-diameter mini jack x 1 (conversion cable included)
Output terminal Audio 3.5 mm-diameter mini stereo jack x 1
Speaker output 2W + 2W
Power supply 100V AC, 50/60 Hz (when using the supplied AC adaptor)
Power consumption 97W*7 / 91 W*8
Operating temperature / humidity 5°C to 35°C / 20% to 80% RH (no condensation)
Dimensions (approx.) 750 W x 36 D x 441 H mm (without stand)
750 W x 390–575 D x 207–493 H mm (with stand)
Weight (approx.) 9.0 kg (without stand) / 16.0 kg (with stand)
*4 Portrait installation not supported when used with the stand.
*5 Supports Finger-only mode.
*6 Mouse operation only.
*7 When using the supplied AC adaptor.
*8 When using the monitor in DC 19.5V.
• Windows and Windows Vista are registered trademarks of Microsoft Corporation in the United States and/or other countries.
• DisplayPort is a registered trademark of the Video Electronics Standards Association.
• HDMI is a trademark or registered trademark of HDMI Licensing, LLC.
[/fusion_toggle][/fusion_accordion]
[fusion_separator top="30″ style="none"/]
Via: sharp.com[/fusion_builder_column][/fusion_builder_row][/fusion_builder_container]